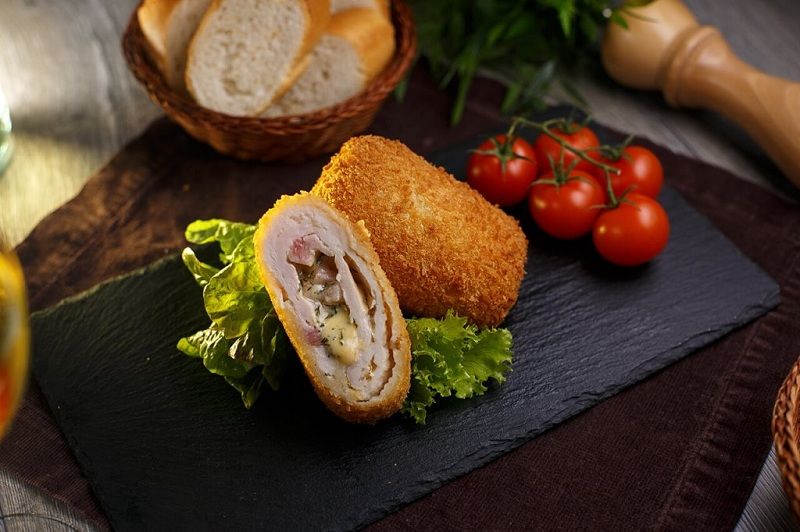 Food and Drink
Cordon Blue- Recipe With Harm And Cheese In The Oven At Home
There are dishes that are always popular even among the most fastidious gourmets. Such food – "universal" – chicken rolls "Cordon Blue." Outwardly, they are very similar to chicken Kiev cutlets: chicken fillet in the composition, breading outside, but the "Cordon Blue" is not round, and the stuffing is always with ham and cheese.
Initially, Cordon Blue was made with veal, but this meat cannot always be bought fresh, and chicken breast is freely sold at any store. Why not try cooking Cordon Blue yourself, so as not to buy expensive boxes of frozen rolls and wait for the next restaurant trip?
Classic Chicken Rolls: A Step-by-Step Recipe
It will take a lot of products, but according to the "exit", if you count, it turns out to be much cheaper to make Cordon Blue at home than to buy ready-made ones.
Need to:
chicken breasts – 3 pieces;
Swiss cheese – about 200 g;
delicate ham – about 100 g;
egg – 1 piece;
milk (or thin cream) – one and a half glasses;
wheat flour of the highest grade – two-thirds of a glass;
garlic – 1 slice;
breadcrumbs – 1 cup (this is with a stock that is exactly enough);
salt, black pepper, vegetable oil.
In order for "Cordon Bleu" to come out really tasty, you have to follow the recipe step by step. The first time, time can be spent a lot, but it is worth a couple of times to prepare, "to fill the hand", and the recipe will not seem very complicated.
We take not just white chicken meat, but breast, and without pits and skins. My, dry with a towel, put in milk or cream – liquids need a glass. After 20 minutes, remove and let drain. This will give the meat a delicate texture and flavor.
Put each breast on the board and cut it into two identical plates horizontally with a very sharp knife. Let them not be afraid that the upper part will turn out thicker in the middle center, and thin at the edges – when we beat them, the meat will "disperse" evenly, and all the pieces will be the same in size and thickness.
Pieces of breast beat. Before the beating, we spread a film of meat on a piece of meat: without it, the meat, no matter how carefully it was whacked with a hammer, can be torn or derailed.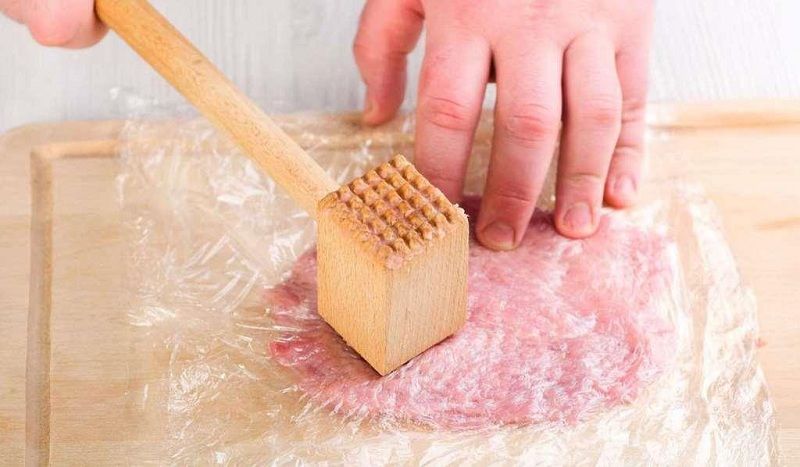 Salt and pepper. Experienced chefs are arguing with foam at the mouth – to use pepper and salt before the beating or after? If this is done before the beating, salt and pepper penetrate better into the fibers, but the breast can make juice. It is better to rub it with salt and pepper when the pieces have already been broken.
According to our recipe, 6 Cordon Blue pieces will be released. Ham cut on the same plates. We also divide the cheese into 6 portions of the plates, it's not scary if there are more pieces – it will melt anyway. Cut the ham as thin as possible, the thickness of the cheese plates should be twice as much.
Divide into two parts. We set aside one for falling off, the second part is added to the egg beaten with milk and stirred until homogeneous – this will be a batter.
It's time to cook a pan with butter. We put it on medium heat, generously pour the oil, we throw garlic, cut in half, there. Minute literally – take out the garlic; He was needed to flavor the oil. The fire is reduced to a minimum, we return to the "Cordon Blue".
Put ham on each meat plate, cheese on top. If the cheese and ham are not the same sizes as the meat, we place them closer to one edge of the meat layer, we wrap it from the same edge.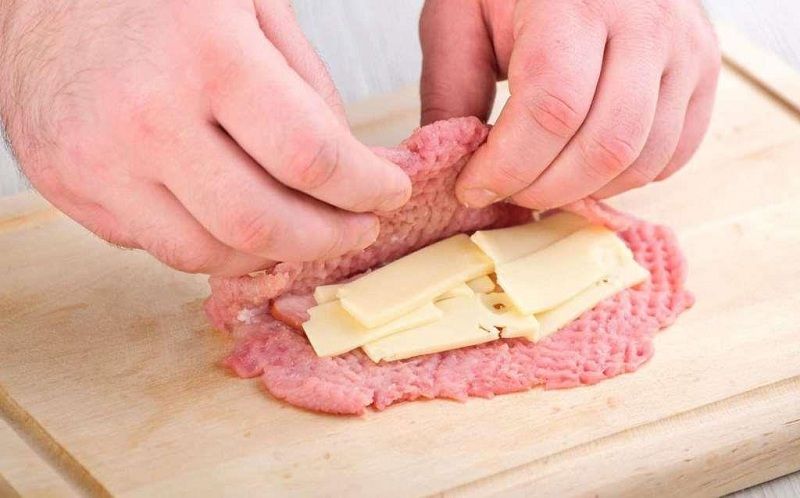 You can stab a roll with a pair of toothpicks, but then you need to remember to remove them before serving.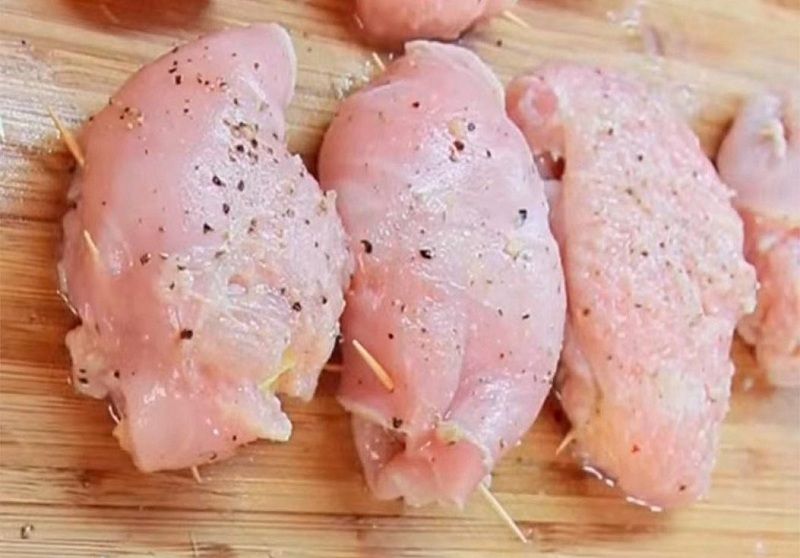 Rolls are rolled in flour, then dipped in batter (egg, milk, and flour). We add fire under the skillet, roll off Cordon Blue well in breadcrumbs, send to roast.
Fry the rolls until crisp, overturn. When the crust reddens on the second side, cover everything with a lid, turn down the fire, and cover for ten minutes under the lid.
Cordon Blue is served on the table only hot: after all, the meaning of the dish is in flowing, "breathing" cheese, when the roll is cut, in aromatic, fiery meat, saturated with the smell of ham.
Cordon Blue from the oven
It is not necessary to fry the rolls in the pan, although it is more convenient. If you want to "confuse", there is a slightly different way of cooking – in the oven.
We take the same ingredients as in the previous recipe, plus a tablespoon of dry Regan. And although the grocery set is almost the same, one should count on a smaller number of servings (three will be released) and those who will eat the "pockets" will eat the "heroic" appetite because the Cordon Blue will be twice as big!
In chicken breasts with a very sharp thin meat knife, we cut the "pockets". If it cuts through – not scary, as long as there are no tears on the sides. Carefully repel, not forgetting to cover with cling film.
Next – pepper and salt. We grease a little each piece from above and below with garlic – the lobule should be crushed in a garlic dish. Sprinkle with crushed dry Regan.
We divide the flour in half, from one part with egg and milk we prepare the batter. If soaking the meat in milk – we take it initially according to the recipe, if not – milk needs half a cup.
In the pocket lay and straighten it there cheese and ham, which are cut into plates. The oven is already on at 150-180 degrees, it is heated. In a deep pan pour the butter, put in the oven.
Roll each breast in flour, dip it in batter, then "roll" well in breadcrumbs. Carefully take out the baking sheet (he and the butter are hot), put Cordon Blue on it, set to roast. Watch and turn over so that the cooking in the oil was uniform.
We invite your loved ones to the table and serve "pockets" as soon as they are taken out of the oven. This time – not rolls, but who said they would be less tasty?
Recipe cutlets for children
Children will also like Cordon Blue rolls, but the trouble is that young gourmets do not all like to wield a knife and fork at the same time. There is a wonderful recipe for how to do almost the same thing, but it is the "childish" option so that you can use only a fork. There is no need to cut because we are going to do Cordon Bleu … from minced meat.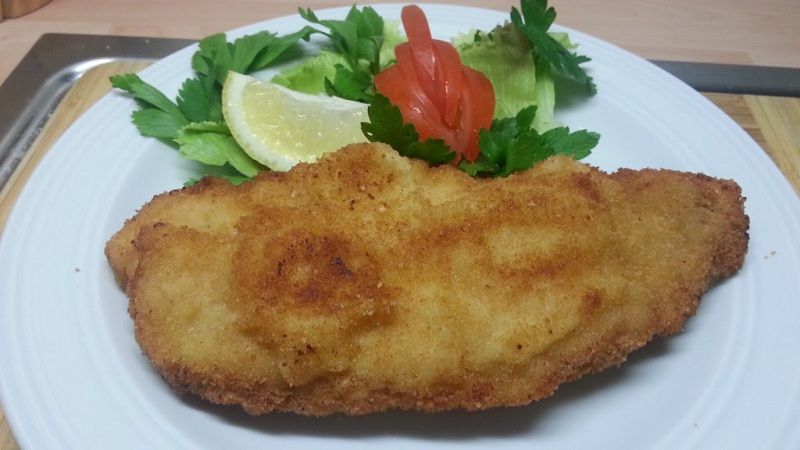 And who said that it must roll? It is possible for adults to make a dish for this recipe.
Products:
Minced white chicken meat or turkey breast – 0.5 kg;
two eggs;
half a cup of flour;
half a cup of milk;
ham and cheese – 100 g;
breadcrumbs – half a cup;
salt, black pepper (a little), vegetable oil.
We'll do without garlic this time – and adults don't respect him, and children often wrinkle their noses with garlic, even a faint smell.
Salt minced meat put a little pepper in there, an egg, knead well, we can even beat it off: we throw it with a ball into the board several times with a force, it will become denser.
Prepare flour for crushing and batter – as in the first and second recipes.
We rub cheese roughly, we cut ham into small cubes.
We take a portion of minced meat with one "grip" of fingers, make a ball out of it. On a piece of cling film put it, equate into a cake. In the middle layout a little cheese and ham. We collect the film around the edges, then – as if we want to tie a knot on top. Flapjack evenly "assemble" in the ball, the filling will be inside.
We take out the meatball from the film, gently form, give it the appearance of a thick patty. Next – flour, batter, breading (according to any recipe there should be such a sequence).
Spread the patties on a hot frying pan with butter, fry on both sides, stew it under the lid. Then it is better to put on a napkin for a minute and let the excess oil flow.
Wonderful turned out "Cordon Blue", no worse in taste than rolls. You can make these cutlets in reserve: sprinkle well with the breading board, lay out the fully finished Cordon Blue, put them in the freezer. An extra layer of breading on the board – so they don't just stick. How to freeze – fold in a sealed bag. This will be a "fast culinary help" in case the children got hungry or were turned up by friends. And we can fry and eat them ourselves!
From the side dishes to the "Cordon Bleu" perfect mashed potatoes, rice. It will be wonderful if you apply to this dish sauces: tkemali (made of cherry plum or sour plums), light mayonnaise with additives, narsharab (pomegranate sauce). When we are preparing Cordon Blue rolls, we do not use greens, but it is nice to decorate a plate with it – an extra plus to the appearance.
If you know the recipe, almost any restaurant gourmet food can be made at home. Buying frozen convenience foods is a lot of bachelors and arrogant businesswomen who are afraid to spoil the manicure. The real mistress knows how to cook the rolls correctly, and how to cut the mince meatballs under them so that the children do not suffer from the knife. In terms of costs, they turn out to be expensive, but the "game of game" is clearly worth it, because "Cordon Blue" is loved by absolutely everyone, suitable for a festive table, and the hostess's efforts will be appreciated.