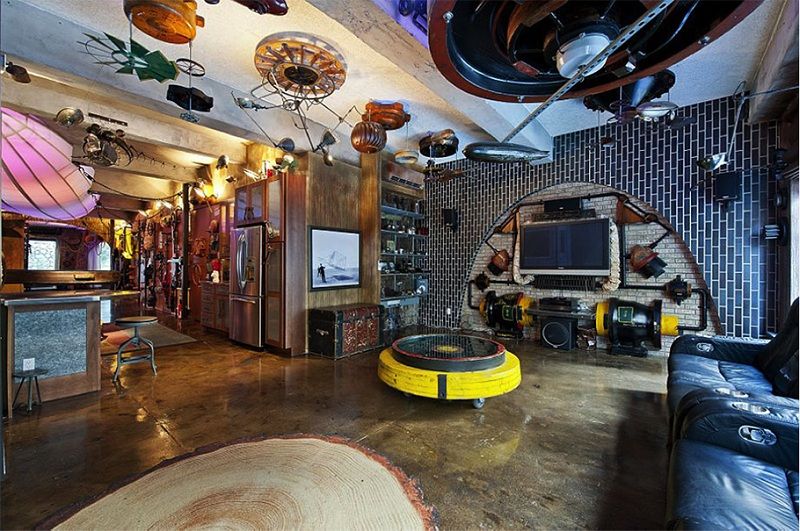 Steampunk style as an interior was born at the end of the 20th century, although its creators drew inspiration from the echoes of the Victorian era and the industrial boom that swept the world at the turn of the 19th and 20th centuries. At that time, progress, based on the work of steam mechanisms, seemed more likely to the people in the street, and even to the people of science, than the creation of machines driven by electricity. Many ideas and principles of steampunk (by the way, this is not only an interior but also an artistic, architectural, literary style) are drawn from the works of great science fiction writers: Herbert Wells, Jules Verne. He owes his name to the combination of the words steam (in English – steam) and punk (trashy, punks) and the American writer Kevin Jeter. He called this comic term fantastic works, where steam engines rule the ball, and the action takes place in the alternative universe of the future.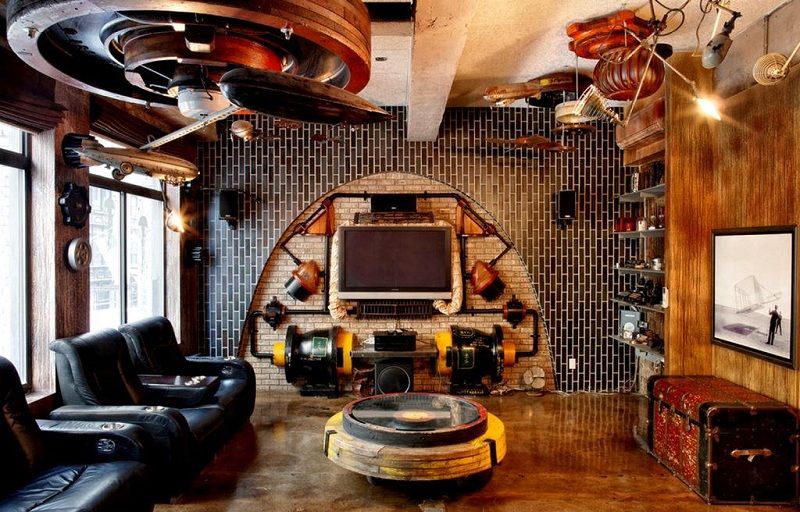 The main types, principles, and characteristics
As an interior style of steampunk embodied all of the above areas. It is often called the museum style, because the living space, decorated in this vein, resembles the scenery of science fiction films and is filled with strange objects as if brought from some parallel world. It is not easy to live in such an environment, therefore the design of an apartment in the spirit of steampunk is often chosen by creative people who draw inspiration from unusual projects and fantasies – designers, artists, musicians, or simply fans of this trend in fiction.
There are three main subspecies of this interior style:
retro-futurism (involves mixing ancient objects of the Victorian era with various mechanisms consisting of pipes, gears, gates, stylized as lamps, decorative panels, coffee tables);
urban paropunk (in this direction, industrial motifs prevail over the old furnishings, from the Victorian era only the background, wall decoration, floor, colors, and lighting remain, all the steel space is occupied by complex mechanisms or their styling as household items);
fantastic steampunk (the freest interpretation, allowing to dream up on the topic "what would happen if the world was ruled not by electric, but by steam mechanisms).
The main differences
The principles of creating an interior apartment in the style of steampunk are as follows:
The predominance of natural materials (no plastic, only wood, glass, metal, and stone);
Any furnishings, interior stylized antique (from sofas and tables to finish walls and computers with TVs), sheathed with wood, decorated with copper or painted in the right shade, or are completely futuristic appearance;
Lamps should be designed in the Victorian style or made in the form of pipes, gears, lamps, stylized gas lamps, without lampshades and shades;
In the decor, objects, surface finish, everywhere must be present the main symbols of the steam industrial age (wheels, gears, valves, pipes, consisting of many complex knees;
Authenticity or specially aged household items, measuring instruments (globes, compasses, telescopes, hand wheels, world maps, models of sailboats, gramophones, printing, sewing machines) give the museum character and special chic to the interior.
Basics of creating an interior of steampunk style
The design of the apartment in the style of steampunk consists of many details, from lighting to decorative elements. Be sure to think in advance how it will look like in the end, because the collection of antique objects, submarines, portholes, and unusual mechanisms, bulky and impressive furniture should not only look beautiful and harmonious but also be comfortable for living. Trying on your home interior with a photo, do not forget about the simple amenities and comfort.
Colors and materials for the design of the apartment
The colors of the apartment in the spirit of steampunk are dominated by soft and warm, but mostly dark colors: brown, black, metallic. However, metallic shades are softened by the love of copper as a finishing material; instead of aluminum, steel, and iron, the details of furniture and decor items consist mainly of brass, copper with a pleasant warm luster. Some metal elements can be covered with rust, patina, especially aged, others, on the contrary, are polished to a mirror shine, which can be clearly seen in interior photos.
Often used wood natural shades. At the same time in the decoration and furnishings dark, rich tones of stained oak, mahogany prevail, characteristic of the Victorian style and pointing to a past era or its alternative future. The use of blue, turquoise, green, red and white shades is allowed, but only in details. Other materials in the interior are dominated by leather, heavy, embossed and textured fabrics, less often – glass.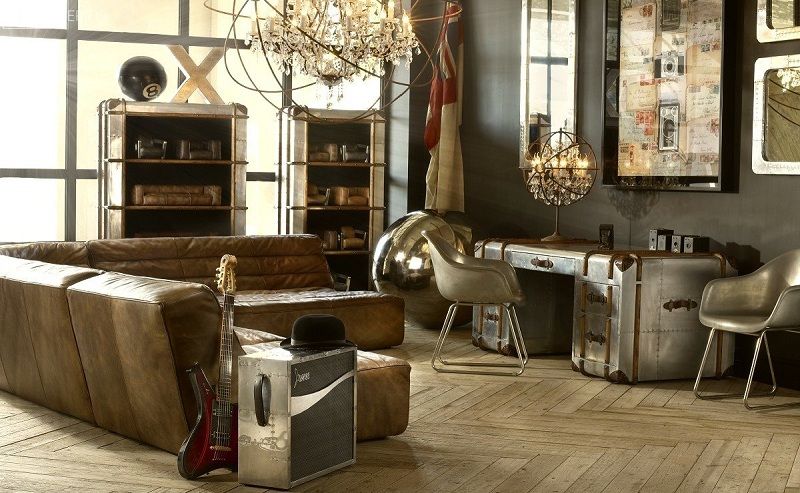 Steampunk Lighting
Ideally, an apartment decorated in this style should have large windows that let in a lot of light, like an old English mansion. In any case, heavy, dark curtains only frame the window openings, otherwise, the atmosphere in the room would be too gloomy. Artificial light should be neutral, diffuse, as sources of lighting can be used antique-styled or real retro chandeliers, vintage Victorian sconces. The use of bare lamps, floor, table, ceiling, and wall lamps, assembled by hand from gears, pipes and other metal elements, as in the photo.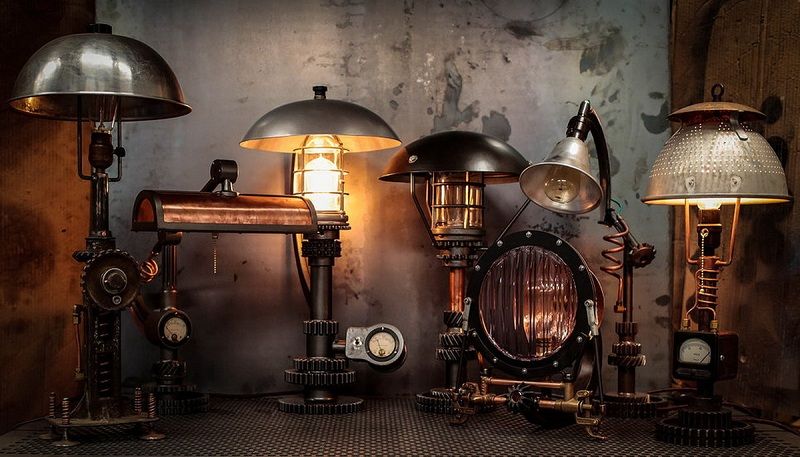 Furniture: retro, fiction, and Victorian style
In this regard, steampunk gives plenty of room for a flight of fancy. You can install in the living room a chic chesterfield sofa, armchairs with leather upholstery and a capito stitch, furniture made of heavy wood, decorated with leather, and copper rivets. In the bedroom it is appropriate to have an old chest of drawers with brass handles, a massive bed with a carved wooden back on the same legs, in the study and dining room – a good, large oak table. A wooden writing desk with many drawers, upholstered in leather or green cloth, is suitable for the workplace. An alternative option is a modern furniture styled as retro or items of unusual shape with natural finishes.
Futuristic coffee tables made of gears, as in the photo below, metal shelves with books, antique pendulum clocks will be a great addition to the alternative to furnishing or furnishing in the Victorian style. Unusual fantastic wall clocks against the background of gears, pipes, mechanisms will look harmoniously in such an interior.
Wall, ceiling, floor decoration
For the decoration of walls in the style of steampunk used wood, paper wallpaper with a vintage pattern, fabric wallpaper. Like a picture on the wallpaper or photo panel, the same gears, mechanisms, cuttings from old-time newspapers, maps, a thin strip or a cell can be used. Alternative option – bare brick finish, "copper", leather, wood paneling. On the floor, you can put a natural board, parquet or materials that mimic them, and ceramic tiles "under the stone" or "cobbled pavement" will do. The ceiling can be left white or imitate wood paneling.
Decorative items and other interior details
In the design of an apartment in the style of steampunk, it is customary to use really antique or aged objects, as well as handmade jewelry in the industrial spirit. Vintage sewing machines, telephones, retro receivers, gramophones will perfectly fit into such an interior. Assemble with your own hands a panel of pieces of iron pipes, paint them in copper color, decorate with valves and gears of different sizes – and the chic wall decor is ready!
Use antique-styled globes, compasses, barometers, models of sailboats, vintage submarines, balloons, a telescope on a tripod, hang a world map (necessarily vintage) on a wall in a wooden frame, or look for an old round mirror on a flea market. Fine, if it comes with a patina. Ideal – a mirror, stylized under the porthole. The main thing – do not overdo it with the details, otherwise, your home will really turn into a museum.