Fashion
Cowboy Style In Women's Clothing
Elements of the cowboy style in modern women's clothing are far from uncommon, as confirmed by reports from seasonal fashion shows with the participation of leading designers. It was with the light hand of venerable designers that many features of the brutal and at the same time romantic image of a male cowboy smoothly migrated to the ladies wardrobe. Initially, practical, rough and simple things got additional décor, more elegant forms, but their essence remained the same: the laconic styles, models of convenient cut of traditional colors and characteristic accessories are considered classics of women's clothing in a cowboy style.
The main features of the image of a cowboy
Since the ancestors of the style are the legendary American cowboys, slightly romanticized in westerns, the basic wardrobe of these brave guys served as a prototype for the current cowboy style. The livestock drivers were spending half their lives in the saddle:
durable jeans;
hats with curved fields from the sun;
dust bandanas
comfortable boots without fasteners and decor;
cotton shirts;
fringed leather and suede jackets;
leather gloves that protect your hands from constant contact with the reins, harness, lasso;
wide leather belts with a holster and other important details.
This whole long list has taken root remarkably in the wardrobe of modern fashion. Of course, modern clothes for girls are more diverse. It is worthwhile to dwell on every detail in more detail if you want to create a stylish and harmonious image in a cowboy style.
Materials and invoices
Women's clothing in cowboy style is sewn exclusively from natural fabrics: synthetics will simply stand out from the image like a foreign body. Choose tight denim trousers, cotton, and linen – for shirts, blouses, dresses, leather or suede boots, the same belts, hats, jackets or vests. Strong denim in a cowboy's wardrobe is echoed by nice to the touch suede, soft cotton, coarse flax. For girls, designers offer country-style clothes made from thick and light fabrics, long multi-layered, short leather skirts or thin linen dresses with simple embroidery and lace along the hem. Many fashion designers are actively combining cowboy style in clothes for women with elements of modern trends, boho, country, with ethnic motifs, In such cases, the use of natural wool fabrics,
Colors and prints
Basic cowboy style wardrobe colors:
blue (indigo);
mustard, terracotta and other shades of brown up to sand and straw;
the black;
muffled red;
Gray
The clothes of cowboys did not abound in decor and variegated colors. The only exception is the red-brown shirts; the rest of the wardrobe was plain. Naturally, concessions were made for women, including white, blue, yellow and pale turquoise shades (muted and dull) in the list of colors. Small floral prints and embroidery in ethnic style are allowed (Native American motifs, geometric patterns, embroidered flowers, lace, openwork inserts, ornaments made of beads, colored threads on blouses, dresses, skirts and even boots, as in the photo.
Items of women's wardrobe in cowboy style
The main items of clothing by which you can immediately identify the style of clothing are cowboy boots, denim trousers, fringed leather jackets, and a trapezoid crown. It is not at all necessary to use them all together and at once, just a pair of accessories and shoes in combination with basic things in a modern, ethnic, boho-style. So you will create a special, unique image with a touch of individuality. Do not blindly follow the rules like "a hat is worn only with boots" or "the color of the belt and the hat must match." Take a few key elements as a basis and experiment!
Boots
Traditional cowboy boots are a model without buckles and decor in soft leather or suede, with a pointed nose, a wide shaft, and a small heel. Drivers loved comfortable shoes, while sharp noses quickly entered the stirrups, heels gave emphasis, and jeans were perfectly tucked into wide tops. The style of modern boots for girls may differ from the original source: the heel may be higher than 4 centimeters or lower, there are models on the stiletto, with the elegant decor (rhinestones, embroidery, perforation, authentic fringe). The color scale includes not only mustard, brown and gray tones, but also blue, white, black, gold, emerald, burgundy. In the summer fit light textile boots, ankle boots, shoes, sandals with suede fringe.
Jeans
Jeans in a cowboy style for women can be either blue and blue or white. They should sit well on the figure, to narrow in the ankle area, so that they can be conveniently tucked into boots. Suitable for the image of a friend of a cowboy and a small flare.
Skirts and dresses
Women's skirts and dresses in a modern interpretation of the cowboy style can be of any length, up to frank mini. Skirts to the ankle with ruffles and pleats, with laces and frills of light shade at the hem, fit perfectly into the image of a cowboy girl. Both dresses and skirts are better to choose a free cut, flying, from soft cotton, flax of light shades in the spirit of boho, country, with ethnic patterns, embroidery, and lace. The alternative is comfortable denim, leather, and suede, short models.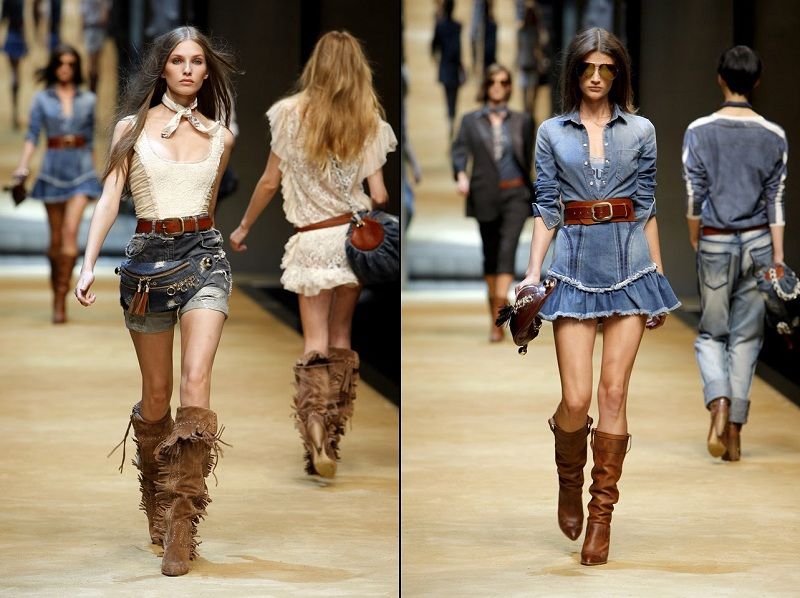 Blouses and shirts
If you like more strict and brutal styles, give preference to men's cut shirts from checkered flannel, denim, white cotton. Romantic natures will like light blouses with sleeves-lanterns, gathered at the waist and at the gate, with embroidery and appliqués. Choose light-colored shirts, combining them with Indian-style jewelry: wooden beads, amulets like a dream catcher, tassels, leather earrings with feathers and beads.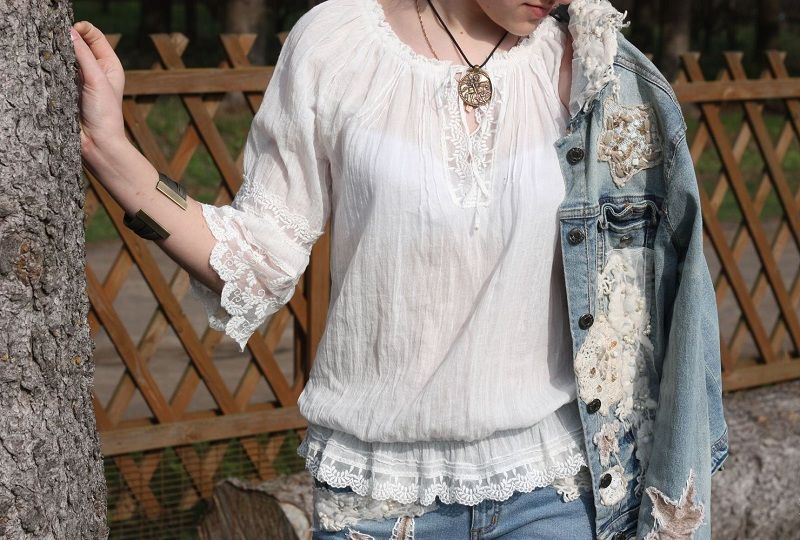 Jackets and Vests
Such clothes as a leather jacket or a suede jacket of chocolate, mustard, another color with a fringe will perfectly fit into a female image in a cowboy style. In the warm season, leather and suede can be replaced with a blue or white denim vest, a beautiful wool poncho with an intricate pattern or a bright edging. In combination with a long dress in the style of boho or a full skirt, a cowboy-style straw hat, light textile boots will look especially suede with a suede jacket.
Belts, corsets, hats and other cowboy style accessories
Like boots, a wide leather belt is considered an essential element of a cowboy look. Female models are represented by thin and wide leather belts with buckles of all shapes and sizes, belt purses resembling a holster, belts with frilly trimming, perforation, tassels, braids, wicker elements. Instead of a classic leather belt, try to wear a corset belt of fabric type: it will perfectly accentuate the waist, set off a snow-white blouse and a fluffy, bright skirt. Women's bags in cowboy style, as a rule, to match the boots: they are made of suede or brown leather and decorated with fringe.
Choosing a hat in a cowboy style, pay attention to models with wide, curved sides of the fields, high crown in the form of a trapezium, slightly flattened on both sides. For the warm season, choose an option from the straw. Do not forget about the bandana (scarf) of bright colors.
What and how to combine such clothes?
To make a harmonious image of a cowboy girl, not overdoing the details, is quite simple. Combine cowboy boots and hats with jeans and plaid shirts, and boho and ethnic dresses with denim and suede jackets with fringe. Sandals, a vest, and a long skirt, a blouse in ethnic style and accessories made of leather and wood – such a bow should not be done fancy hair. It is better to leave the hair loose, grabbing a pair of strands with a barrette, or braid net braids, giving them a deliberately casual look.
Cowboy jackets are perfectly combined with classic trousers, light, short summer dresses, long loose skirts to the floor. Cowboy boots look good with a mini-skirt, shorts, t-shirts, cardigans. A hat with a trapezoidal crown will add a zest to the romantic image of a girl in a summer dress with a floral print, in straight jeans or a flared model in tandem with a classic white t-shirt and denim jacket.
As you can see, there are hundreds of options for using cowboy-style women's clothing in various bows and its harmonious combination with other styles. Try it and you experiment, creating every day your own version, bright and individual.