Wedding
DECORATION FOR WINTER WEDDING
A winter wedding, always usually done with great elegance. The season lends itself to many combinations with heavy fabrics such as velvet, which are hardly recommended in summer or spring. In addition, you can add items such as rugs or rugs that look great and are not embarrassing because of the cold temperature around the room. Since wedding decoration gives a lot of play, because it involves a large number of elements (flowers, invitations, setting, tables, etc.), throughout the year we will be releasing as a novelty a series of posts related to them, and to release this new section we immerse ourselves in the decoration of winter weddings showing that it is also possible to marry with glamour when the cold intensifies.
To give you an idea of ​​winter decoration, we present options for outdoor weddings or indoor spaces, you will want to get married in winter!
Interior Weddings
Weddings in enclosed spaces have less difficulty than those in the open air, because spaces are defined and it is not necessary to condition any place. If you already have the room, check out our ideas:
Fabrics and carpets
Linen and glassware
Touches of color
Fabrics with fall and lights
Outdoor winter wedding
With outdoor weddings you have more freedom. You can place elements that, in a closed space, would saturate the place. We suggest you check the flowers you will use . Although the artificial, may be the touch you are looking for your winter wedding.
Flower garlands
Hanging lights
Lanterns and carpets
Fires
Common mistakes in a winter wedding
Winter weddings are always the favorite among brides who want to do something different. Because there are many reasons why the white era is becoming the protagonist of the most beautiful love ceremonies.
Whatever the theme of your wedding, mistakes and confusions will always be present. Although nothing is totally true, much less strictly regulated; but as it is well said: everything has its joke. So make a winter wedding has very strong aspects that you should consider and many others that simply do not go with the style of your wedding.
At winter weddings there are 6 common mistakes that you should not stop checking to prevent them from buttering your best day.
 Wedding dress
Remember that the weather is colder. Therefore, it would be a mistake to choose a very low-cut dress, with light and flowered fabrics; you will only suffer from inclement weather. The best option will be that your dress has sleeves, whether heavy and thick fabrics with glitter or crystals, round neck, asymmetrical. Conjugate with accessories such as long capes, stoles, scarves, coats, scarves and even boots. Although you could also use closed sneakers. Remember that it is important to look good, but it is much more important to take care of your comfort and health.
The invitations
They are the first to announce the type of event you will have. Reason enough to ensure that your design, style and indications are necessary for your guests are aware of the theme of your wedding. Commonly, invitations to a winter wedding are very elegant using seasonal colors as illustrations of the season.
The worst mistake you can make is that your invitations have nothing to do with the theme. Avoid flowers that evoke spring the excessively scandalous tones. It prefers season tones and the elements according to it.
Budget
Doing your wedding in winter, does not mean that because it is one of the low seasons of the bridal world the expenses will be lower. On the contrary, the budget could be increased by the aspects of the decoration and especially in your trousseau since the fabrics are more expensive and extra accessories are added to cover the cold. Try to balance your expenses to reduce your budget.
Decor
You must set the reception area with the theme of your wedding. If you live in a place where you can appreciate the snow, it would be perfect. If not, they can condition a room with fireplaces, scented candles, light bulbs, flare light. It also uses seasonal flowers such as poinsettia, carnations, orchids, statics, etc.
The colors of Christmas are very characteristic so we recommend tones. For example gold, gray, silver, red, olive green, white.
Another common mistake is to abuse the decoration. Do not do it, remember that winter weddings are characterized by a white elegance. So do not turn your celebration into a Christmas inn, unless you want it.
Banquet and drinks
Seafood not please. Better consent to all your guests with a super warm banquet of three to five times. Accompanied by mulled wine, a bar of coffee and infusions, a shot of eggnog and the traditional punch with a picket, you can not miss it at your table! You will keep everyone with the hundredth stack and very warm.
Souvenirs
If you are going to give something to your guests, make sure they take a souvenir according to the theme of your wedding and especially that it is useful for them. Do not give away the traditions of porcelain dolls or the embroidered napkins that everyone gives at all weddings.
Break schemes what do you think of coffee bowls, blankets with embroidered initials, gloves or scarves? They are gifts that can be used in the winter season and every time someone cheats on them they can say that they were a gift from your wedding.
Tips for celebrating a winter wedding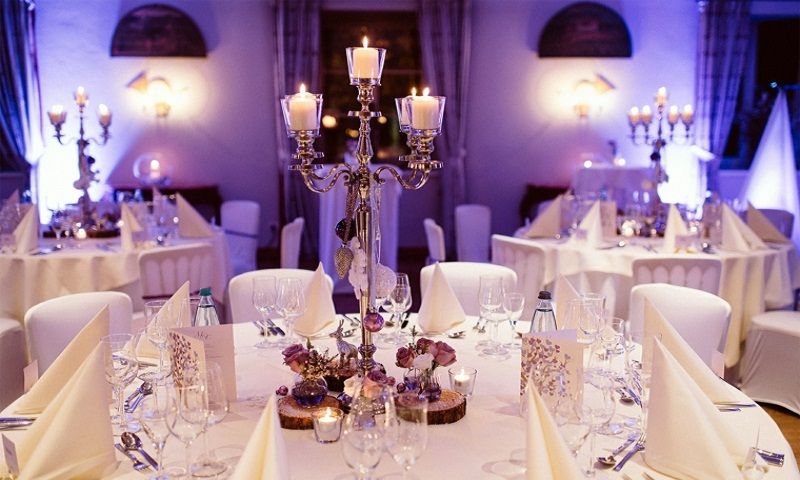 Take advantage of the season to do a themed wedding.  The motives and colors typical of winter can give a different touch to the decoration: snowflakes, dried pine cones, golden and silver tones, candles, Christmas decorations … Be careful, do everything with restraint so as not to overload the environment and, most importantly, Make sure your brother-in-law is not going to disguise himself as Santa Claus.
Choose the appropriate location.  Do not go through the gardens and outdoors when choosing, as you will spend most of your time indoors. A place with rustic rooms, with fireplaces, stone walls and wooden ceilings that will create the perfect environment for your wedding. Extreme security, the guests will wear flammable dresses and three kilos of hairspray in their hair, do not forget to protect the chimneys.
The dress of the bride must be in accordance with the winter temperatures. Take a stole or coat over the dress : a hair of the same tone is an elegant choice at the same time warm. Ideal to not be your blue something.
The thing about the katiuskas before was serious:  if it rains, nothing better than a pair of water boots  so that nothing will make you bitter for the day. You can choose the same color, and even matching the umbrella, the photos will be the most original. If instead of rain, you are lucky and it snows, the romanticism in your album is assured. And the bridal war of snowballs too.
Acclimatize the exteriors with mushrooms.  No boletus, of the heating ones. Otherwise you may have seven or eight smokers frozen the next day.
Surprise your guests.  Weddings in winter are not common, so do not expect to get some Christmas hats in the middle of the dance. Or that as a detail you give away some gloves or a small blanket in case there is a frolicker. Or that in the middle of the night, between glass and glass, offer a hot chocolate with churls. More than one will end up dipping in the gin tonic, sure.
Advantages of celebrating your wedding in winter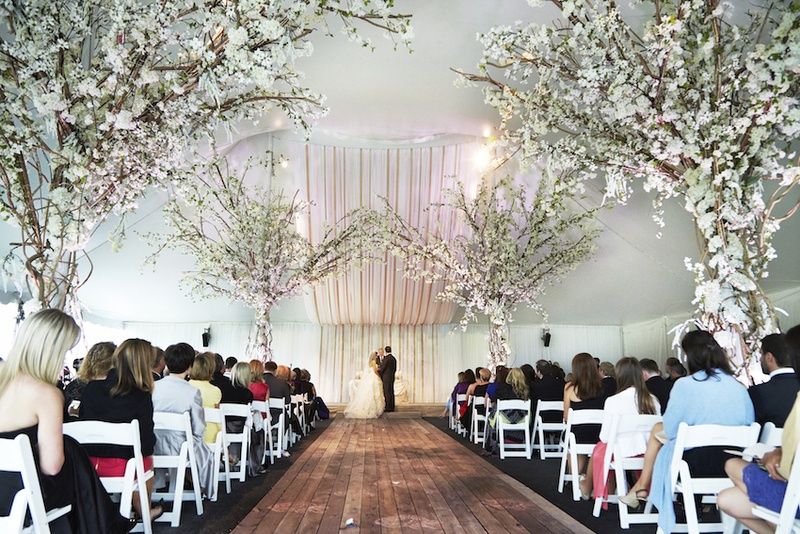 Free dates!
Being a few requested dates you can choose the one that best suits you. You will not have problems to find available dates for the place of the ceremony as well as the banquet and the other services that you hire on your big day. For example, you can celebrate your link in an incredible natural environment such as the one offered by the Paradox de Credos , the first of the hotels in the Paradoxes network.
A different wedding
The winter offers the possibility of celebrating a wedding very different from the typical spring or summer. It can be useful to have an original and fun wedding . Dare to play with the elements that winter provides us! The snowy natural spaces, the perfect light for the photographs, the precious winter accessories … Your celebration will stand out, it will be unique and very special.
Controlled time
Unlike spring or autumn, when the weather is unpredictable, the rain may spoil your great day. In winter , the logical thing is that it is cold or raining, so it will be something that you will have to take into account when it comes to organizing the wedding, a plan B never hurts. But, it can also be a radiant day and you can enjoy your link even more. Like, for example, if you decide to celebrate your wedding at the Parador de Vielha , a space with stunning views and the perfect place to enjoy the nature of the Aran Valley .
Offers and discounts
In this time, suppliers usually offer discounts and offers, which will allow you to save good money. A big advantage! Discover how to calculate the budget of your wedding and choose the most wonderful place of celebration in the whole Spanish geography. With Paradores, your celebration will be a dream.
The bridal look
Another great advantage for brides is to choose long-sleeved dresses that are elegant as well as sophisticated, in addition, you'll look radiant as  they stylize the figure and highlight your strengths. All advantages! Also, you have the possibility to use accessories such as jackets and boleros that bring a very chic touch !
Ideal time for anyone to miss
At other times of the year your guests may have other events such as vacations, getaways, or even another wedding that prevents them from going to the link. We tell you how to create the perfect guest list with the 5 golden rules  and the 8 people that you do not have to invite to your wedding .
Beautiful photographs
This time of year allows to obtain some beautiful photographs thanks to the winter landscape. Can you imagine giving the "yes, I want" in a natural and snowy environment ? Well, if you choose this time of year you can look for a venue where there are many possibilities that the environment is snowed. An example can be the Parade de Fuentes Dé , located in the region of Ileana , is the gateway to magical forests, hillsides and viewpoints that make up a romantic and beautiful landscape.
Menu for a winter wedding
Appetizers
In any other time it is this moment where cold dishes are given , but luckily it can be adapted by bringing semi-cold or hot sandwiches. An option for the semi-cold ones are sausages, cheese, ham, olives, pâtés, etc. And as a hot snack are canapés, mousse, or fried vegetables, etc. You can also hire a chef who is preparing hot sandwiches at the moment, it is an original idea and your guests will be happy.
Tickets
The dish par excellence for the winter is a cream or a soup, the options are endless, so you can choose your favorite. Whether it's a vegetable cream, your favorite soup or a traditional one from the place where you are celebrating the wedding, we remind you that it is also an important part of presenting it, you can choose an original bowl, put it inside a bread, or on a plate Traditional garnished with cilantro or mint parsley leaves depending on the type of dish you offer.
Main dish
This dish should be more elaborate and with a little more calories than if it were a wedding in summer, in this case it could be a stew of meat, fish or poultry, which can be accompanied with mashed potatoes and gravy as well as some cooked vegetables. In case you do not want to make such a heavy dinner for your guests you can accompany the main dish with salads that are specially designed for winter.
Dessert
The key element is the melted chocolate , because we all love melted chocolate and nobody can resist it, besides it is the perfect complement for everything, whether you have decided on roasted chocolates, boiled fruit like apple, pear, or peaches or a portion of the wedding cake, everything is perfect with chocolate.
We are sure that your guests will adore this menu, regardless of the changes you decide to make, they will be satisfied and with a lot of energy to enjoy your winter wedding and make this an unforgettable day.
Finally, Winter is near and more and more couples are choosing these dates to celebrate their winter wedding. Getting out of the usual summer season  can result in the bride and groom saving up to 40% , something that usually counteracts the inevitable increase in the complaints of the guests. And the advantages of getting married in winter are endless: better prices, different landscapes, more availability of dates, more enthusiasm of the guests (who usually suffer the typical accumulation of seventeen weddings in July and twenty in August), and better light for the pictures. In addition, brides avoid agony and suffering to think if the whirlwind of the century will fall just on the day of their wedding, in the middle of August. The meteorological surprises are almost discarded : a  winter in  wedding almost ensures cold and rain. So, boyfriends and girlfriends, wear the swastikas and follow the advice we give you to make your winter wedding unforgettable.