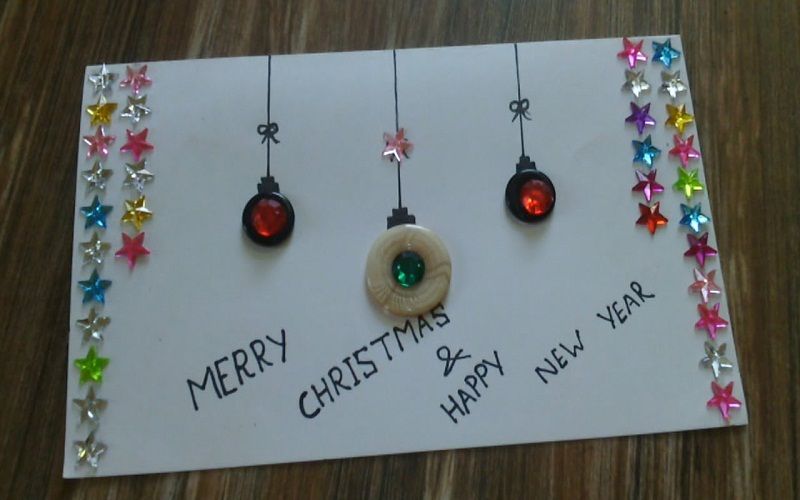 Despite the technology that directs and dominates our life and our society, the Christmas postcards are still a nice detail in the dates that lie ahead. Today we want to give you some ideas so you can make and decorate your own Christmas cards yourself.
It is true that less is used every year. That there are not many people who send, by ordinary mail, Christmas cards to congratulate the parties to family and friends. That the virtual Christmas messages sent by email flood everything, or at least the networks, on these dates indicated.
And although all this is true, I like the idea of ​​sending Christmas cards (and receive them, of course!). It transports me to the past, when this was the most usual way of wishing everyone a Happy Holiday. People connected by phone, it's true, but Christmas was not missing in any house. In mine, as in the majority, my mother put them in the living room, in a very visible place, and there they stayed all Christmas, as part of the decoration of the moment.
Well, if you do not want to lose this habit, encourage yourself to make or decorate yourself some postcards to send wishes of happiness to those closest to you. Nor is it about sending dozens of Christmas , or writing to everyone you know. That seems to me too hard a task. I almost prefer to use the modern ways of congratulation that the 21st century offers us and leave the personalized cards for the people closest to us. Here are some ideas to do it.
Ideas to decorate Christmas postcards
It's easy to go out one afternoon to buy Christmas postcards. In stores you will find very nice, endearing or funny models. The grace is in making them yourself or, failing that, decorating them in your style, thinking of the person who will receive them.
But of course, this has its difficulty, especially for people who are not used to doing crafts or drawing. However, there are a lot of easy ideas with which you can create simple but fun and festive cards.
Cards with applications
A good idea to make Christmas cards, and for which you do not need to know how to draw very well, is to decorate them with applications of different materials, as an imaginative collage.
You can use colored cardboard to make the card and serve as a background and, from there, go creating a drawing with other things: newspaper , colorful papers, wool, ribbons, sequins, buttons …
Give free rein to your creativity and you will see what more special cards you get; and with very few materials and easy to find. This year you have time to look for the ideas and things that you need, and let the DIY spirit flood you.
With decorative seals
Given the great boom in recent times crafts, everything handmade and the DIY universe, the shops are full of fun rubber stamps for stamping with Christmas motifs. You can get a couple of them and decorate your own postcards.
To do so, you only have to choose the color of the ink that you like the most, and the cardboard for your cards. Try to be two contrasting tones so that the design can be seen and read without difficulty. Then cut and stamp your card to your style. Easy, right?
And if you do not want to buy any stamp to decorate the card, but you prefer to do it yourself, the possibilities multiply surprisingly. Imagine the things you can stamp … To make stamps you can choose several options: you can make them with rubber eva , erasers … even with a potato cut in half.
If you do not have a lot of experience in the techniques of carving stamps, it is best to choose a simple design that does not have to be bland. And if you do not look at all these cards with Christmas trees of different colors. The key to success is to select the colors well and combine them with success with the background tones.
Decorate Christmas cards with the kids
An idea that I found really fun (and very practical for those long holiday evenings with the children that are coming to us) is to buy a kit of postcards prepared to decorate.
With these cards, the only thing you have to do is the drawing, in the blank space prepared for it. For the rest, the purchases already cut and with their envelope. Children will love to draw and decorate and then send them to grandparents, cousins ​​and uncles, friends …
Details in gold and silver
If your tastes are more classic, then surely you love Christmas cards that include golden or silver details that give light and shine to the design. In this sense the options are endless: sequins, bows, glitter, shiny papers, etc.
Using these materials and combining the colors you can design your own more glamorous greeting cards, perfect to surprise your friends.
How to make homemade Christmas postcards
At Christmas, we are still excited to receive postcards . That endearing moment in which the signature of loved ones is discovered is sweet at any age. If you are willing to do a simple craft we can show you how easy it will be to send beautiful Christmas greeting cards made by you.
By combining colored cards, and with a little ingenuity, you can compose different card models. The trick is to choose well the colors that we combine and not just repeat standard ideas.
On a white card that we will fold in half we can play with soft colors, like the different shades of beige, brown and green; colors that suggest the forest, as in these two proposals in which the Christmas motif is the deer.
homemade flower postcard for Christmas We can use boxes of different sizes in beige tones that we will superimpose on the white base, as a frame for the small deer we have done in light brown, highlighting the dark brown horns and the nose in red.
The star detail is the burlap in natural tone that gives a delicious natural air to the card. Same in this other where the sapphire lighter tone serves to make a flower held by a sheet painted with the deer motif. We put the flower on a square of green cardboard sprinkled with white that stands out on the base.
homemade fireplace postcard for Christmas Another possibility that you can try is to compose, on the base, a Christmas motif such as the fireplace with hanging socks or the inside of a fireplace, cozy images of the home in winter, gifts, mystery and magic. It is easy to draw the figures with simple strokes, in warm colors that contrast with brighter ones, and then paste them on the card as a puzzle. The colored cards are the key!
Decorate Christmas cards with dry twigs and design ribbons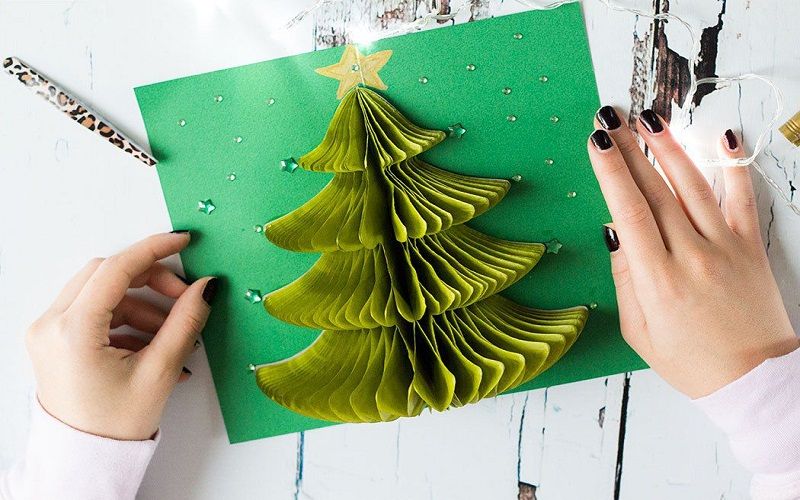 Today the idea is to make these beautiful and very original Christmas cards that you can use for your Christmas gifts, at the Christmas table or to decorate your Christmas tree . Ask your little ones to help you look for dry twigs in the garden or in a nearby park and get to work!
Materials:
White and red paper: it can be Belgian pasta or praline cardboard.
Cutting base and cutter.
Pencil and ruler.
Liquid silicone
Brilliantine or frost in the shape of stars.
Glue stick.
Design washy tapes.
Adhesive cloth tapes design.
Small clamp
Origami starlets
Finally, these parties let your creativity fly, do an activity with your children or nephews, or even have a rainy Sunday without leaving home making your own Christmas postcards with these ideas and your own. Let your imagination fly and play with paper, bow, string, paint, wool and glitter or even with reused materials that you have at home. It is a perfect occasion to keep the little Christmas traditions and enjoy doing something manual leaving your friends and family with their mouths open. Merry Christmas to all!
You may also like Ideas to decorate the floor with spray