Pastel shades in an interior are light derivatives from saturated and bright flowers. The colors of pastel shades are varied. For example, the pale cobalt version is blue, and the bright red color is pale pink, while the dark green color becomes pale green.
In a modern interior, a combination of pastel shades gives valuable properties:
Delicate colors in the design reflect and absorb bright surrounding colors.
Pastel color visually expands the space and increases the amount of daylight.
Light shades create an atmosphere of lightness, peace, and sophistication.
Apply the colors of shades
In the bathroom. Experts advise using either light shades of peach palette or blue.
Bedroom – the kingdom of harmony, peace, sleep, therefore a diverse palette of pastel shades will be appropriate in any of its manifestations. It is possible to add an interior design with lace, delicate graphic patterns, and decorative things.
In rooms with a small area, such as a pantry or dressing room, there are not enough purely warm or cold pastel shades. They must be supplemented with a properly selected light.
Cold pastel shades are more appropriate to use for a living room design. If you combine several different shades in the interior, alternating them in textiles and upholstery, this will give the room a bohemian atmosphere.
Style application of pastel shades
Shabby-chic – the most homely and cozy style. Delicate wallpaper, playful floral decoration, furniture with smooth shapes of light shades make up the base of shabby – chic.
Provence – characterized by the magic of lavender fields and milky color palette. The wall in this style is always monotonous – pastel or frescoed.
Modern – the freedom to combine different colors and materials. Furniture is presented in simple forms. The walls, as a rule, are pastel wallpapers, for example, with geometric patterns of the same color, but different saturation.
Classic is a tandem of tenderness and elegance. Walls will be decorated with wallpaper with a slightly visible pattern, and elegant furniture and noble textiles will complete the look.
Scandinavian – the basis of style is white and light colors. Bright details can act as accents, such as furniture, textiles, part of the finish.
Marine – a range of light shades of turquoise, blue and beige. These pastel shades will make the interior incredibly functional.
Using pastel shades, the interior will be light, neutral, but stylish. In addition, the pastel palette carries positive energy and helps to relax.
A beautifully furnished apartment is not at the expense of comfort – not an easy task. We have prepared 10 life hacks, which will help to make a small room visually larger, but at the same time convenient and functional. Choosing the right furniture and observing just a few rules of its arrangement will transform the space of any room, making even the smallest apartment spacious.
If the bedroom area does not allow you to place a double bed so that you do not have to squeeze sideways, choose to transform furniture — a cabinet-bed, which makes it possible to equip even a living room as a bed. A folding bed is an engineering marvel that when assembled is a wardrobe.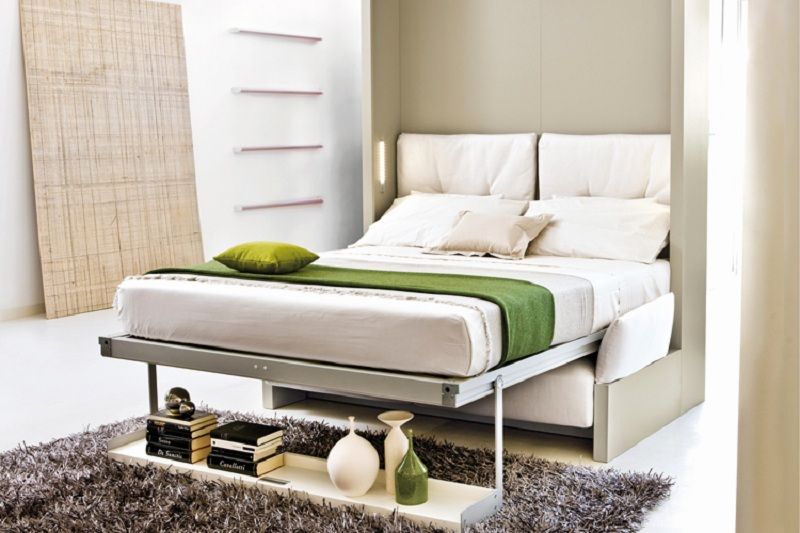 For a small bedroom will also fit a bed with an extra bed. This is a practical solution for families with several children, and for receiving guests. Also, a popular option for such furniture is a two-level bed for children with a pull-out bed, which is slightly lower than the main bed.
The optimal solution for organizing the space of the children's room will be a bunk bed with storage boxes. Best of all, if the boxes will be located around the perimeter, creating the maximum ergonomics of space.
Also for the nursery, you can buy a loft bed which can simultaneously become a bedroom, a dressing room, a workspace, and a game space. Under the top tier, you can arrange a desk, wardrobes for clothes or other items, a sofa or another bed.
A budget and practical option is a folding bed, which can become both a permanent and temporary bed. This is especially true for those who often move. When folded, it can serve as thumbs.
A stylish option for a small room will be a corner sofa with a swivel mechanism. Unlike other upholstered furniture, this option occupies an angular space, fulfilling the role of rest areas and beds. The only drawback of such furniture is the impossibility of periodically updating the interior of the room, so if you are not conservative, you should prefer another version of upholstered furniture in the living room.
A common problem is a small kitchen area. A dining table will be a real salvation, which when assembled is a cabinet, which, if necessary, can be easily transformed into a table.
Design solutions do not stand still since the competent strategy of compact storage of things remains relevant. Therefore, to save the space of any room, a cabinet or drawer cabinet is ideal.
Built-in wardrobes in the room for any purpose (whether it is a hallway or children's room) are also functional and make the most efficient use of scarce space.
In addition to the various multi-functional furniture designs, there are many more tricks that allow you to expand the space:
Use of furniture with a mirror coating. A full-length wardrobe with mirrored doors will make the room visually larger by increasing the amount of natural lighting, but the main thing is not to overdo it with glossy surfaces, so as not to create the impression of a banquet hall.
Light and pastel colors in combination with glass tables will make the space airy.
Do not use chandeliers – they look cumbersome.
Do not litter the room; try to hide as much as possible those things that you do not use constantly.
And remember that a small room is not a sentence. Often in small rooms, there is not enough space due to the fact that we simply do not know how to properly use the available space. Adapt ready-made tips and ideas to fit your needs and the characteristics of an apartment or house. Thanks to the multifunctional furniture, you get a simple and at the same time practical interior, which will allow you to effectively use every square meter of space.